Client: GRSA
Location: Comandatuba | Bahia / Brazil
We designed the kitchen for the hotel events area which is separate from the hotel's regular kitchen for guests and staff. This project had to meet the demand for 1,000 couverts a day.
Since it is located on an island this is an area of difficult access and supply and the central storage is on the mainland. For those reasons, we defined a good sized area for dry food storage and cold rooms. We designed a kitchen with linear flow and ample area for servers to the events' rooms to move around.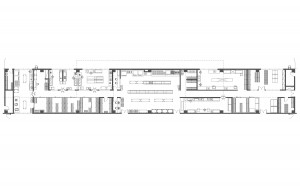 CREDITS
Projeto de arquitetura: Ricardo Julião Arquitetura e Urbanismo.